The following are books that students felt fit into this post.
The Atonement Child by
Francine Rivers F RIV
Reviewed by Elle Diakovasilis
A Christian adolescent currently attending college and is engaged to a man studying to be a pastor, is faced to one of the most challenging choices yet. Dyna is forced to question her faith and trust within her family.
Such a moving story filled with many dilemmas and heart-breaks one after the other.
I would recommend this to teen-adult girls/ladies who enjoy an easy read with a few tears. It is a heart-felt story which relates to everyday life.

The Shadow Girl by John Larkin F LAR
Reviewed by Jordyn Matheson
A girl whose family were killed has to live with her aunty and uncle where the uncle is really creepy and mean. She escapes and becomes homeless. Living on trains, bus shelters, hotels etc. Eventually she goes to school and meets a friend. Along the way she is caught by 'creeps' but gets away.
It was the best book I have ever read. It was honestly amazing. It was the only book that I have ever wanted to finish.
I recommend this book to people who like mystery and drama. More for a teenage girl to read.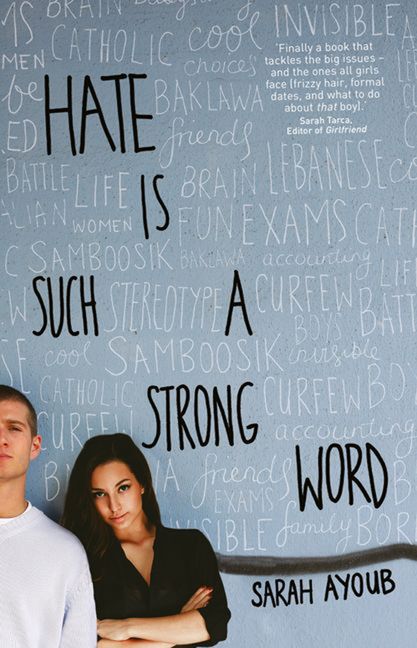 Hate is Such a Strong Word by
Sarah Ayoub F AYO
Reviewed by Breanna Ivanovski
This is about a young girl's life and how she feels controlled by her society and her elders. Throughout her journey she meets a boy at her school who is different to everyone else in her community. As things progress throughout the book she discovers new things about herself and her relationship.
In my opinion I didn't mind the book although if someone asked me to read it again I wouldn't.
This is recommended to people who like books that are somewhat realistic.
Me, Earl and the Dying Girl
By Jesse Andrews F AND
Reviewed by Sienna Cutelli
The story is about a boy who doesn't talk a lot and make short films with his best friend, who is the complete opposite of him. A girl he goes to school with gets diagnosed with leukemia and then becomes friends with him.
I really enjoyed the book because it was very clever at times and had a good plot.
Sparrow
By Michael Morpurgo F MOR
An emotional, heartfelt story of Joan of Arc, going deep into her life and the details around it. Really beautiful journey through the difficulties, hardships, and accomplishments of her incredible life.
This book was very interesting, heartbreaking, would recommend as it is probably the best book I ever read; was sad when it was over.
I would recommend this book to teenagers interested in Medieval type history true stories, or a teen sort of story.
The Face on the Milk Carton
By Caroline b. Cooney F COO
Reviewed by Lola Mortimer-Short
The book is about a girl that thinks she was kidnapped because she saw a photo of her as a missing child poster on a milk carton. About her journey to find her real parents.
Really liked the book wanted to read more, very interesting.
I would recommend this book to people between the ages of 12-13 and older.